Fibrenew is mobile service franchise that specializes in the repair, restoration and renewal of leather, plastic, vinyl, fabric and upholstery. With a rich history that dates back to 1985, we manufacture a highly-specialized proprietary product line and have pioneered the repair techniques and exclusive color matching technology that our technicians use everyday. Our products, techniques and color matching technology are what sets us apart and what has made us a leader in our industry.
Since Fibrenew's inception, we have never stopped growing. Our franchise base has increased every single year – through every rise and fall of the world's economy.
HISTORY
1985: Fibrenew is established
1987: Franchising begins. Michael Wilson purchases first franchise
1994: Michael & Fran Wilson purchase company
1994: Fibrenew begins push to franchise across Canada
1995: Fibrenew starts manufacturing its own products
1996: Fibrenew New Zealand is established
1997: Fibrenew Australia is established
1999: Fibrenew's first US franchise opens
2000: Fibrenew grows to 100+ locations globally
2012: Fibrenew reaches 100 locations in the US
2015: Currently 245+ locations in 5 countries
2016: Fibrenew Australia opens under leadership from Dean Carroll
MISSION & VISION
Fibrenew franchisees at one of our conventions
Our mission is to remain as the world-wide leader in our industry, while assisting our franchisees in achieving their personal and financial goals through owning and operating a thriving business.
Our vision is to provide our service, throughout the world with integrity, distinction, and enthusiasm.
---
THE BIGGEST AND THE BEST, ONE JOB AT A TIME
Approximate number of repair and restoration jobs completed by Fibrenew for our valued customers around the world:
Every day: 1,265+
Every week: 6,325+
Every month: 25,300+
Every year: 303,600+
---
Partners With Lady Tradies Australia
Lady Tradies was established to Promote, Support, Connect & Encourage Women & Girls in Trades and Non-Traditional Roles. Based in NSW Australia, the organization can connect you around Australia (& soon around the world) with a Lady Tradie to help you. Fibrenew is proud to be partnered with Lady Tradies!
---
MEMBER OF THE INTERNATIONAL FRANCHISE ASSOCIATION (IFA)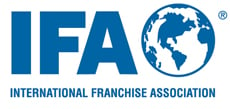 The International Franchise Association is a membership organization of franchisors, franchisees, and suppliers that protects, enhances, and promotes franchising. Fibrenew has been an active member of the IFA for many years and participates in various IFA shows and marketing initiatives.